Rising Tide Leadership Institute Ambassadors will build awareness of our mission,
message and education initiatives.
RTLI Ambassadors are competitors in high-technology sports and serve as role models to educate audiences that there is a link between performance excellence and organizational excellence. Our Ambassadors provide girls with a vision of women in significant, unconventional leadership roles that will inspire them.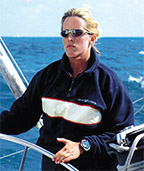 Katie Pettibone
One of the pre-eminent women sailors in the world, Katie Pettibone is a veteran of three America's Cup teams, including the 1995 the first all – women's team to compete for the Cup, She has also sailed in two around the world races, the famed Sydney-Hobart and Worrell 1000 Extreme Catamaran races.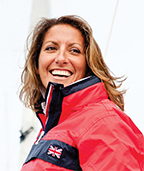 Dee Caffari
British yachtswoman Dee Caffari is the first woman to have sailed single-handed and non-stop around the world in both directions and the only woman to sail non-stop around the world three times.
Linda Lindquist-Bishop

High-performance athlete and business executive, Linda Lindquist-Bishop competed on the historic 1995 America3 Women's Team, while also heading up their successful corporate sponsorship program. She next served as publisher of Yachting Magazine for 3 years, and went on to win two Farr-40 World Championships in 2004 and 2009 while building Courageous Thinking Inc., a consulting firm specializing in strategic planning, executive life transition and motivational speaking.