The first leg from Bahrain to Qatar of Sailing Arabia The Tour (SATT) 2014 was delayed. Katie Pettibone shares how she and her crew used the additional time before the race began:
More race delays = More time to train
Well, I didn't envision on this chilly and windy night writing a blog from – well- Bahrain. Here we are though, and as an aside it is the right call, delayed on our leg from Bahrain to Qatar. The Race Committee boat was finally allowed out of customs and was put into the water this evening. As it had a bunch of needed safety gear and it is our escort vessel, it was the right call. We took advantage of the day as well to get a new boat GPS because we had been having electrical problems. Additionally, taking this new crew out on a windy sleigh ride in what will be a race during daylight hours instead of a cold night is simply much more enticing! I am really looking forward to heading south down to Doha and the warmer climes. Maybe living in California has softened me, but I do like my warmth!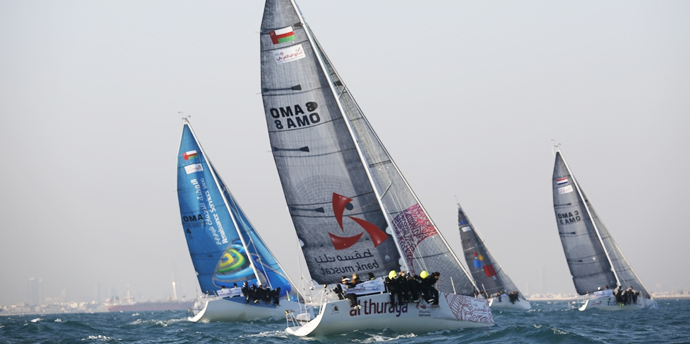 Debriefing the unexpected breakdown
We took the chance to do some practice in today's 20+ knots. While out sailing, the tack clip on our new jib blew up. It had been sadly underwicked (to small for the loads) so it was bound to happen and it turns out it did happen to another boat. We got into the dock and quickly fixed it with the help of our hard working shore crew so that we will be able to use it tomorrow. These things go with a loud bang and lots of flapping so it seems all more the dramatic than it is, but it was really good training for the Omani women. Learning that the boat cannot move without the main sail being eased and what to do when something unexpected happens was a good learning moment. After we got to the dock and had the jib being sorted, we talked through what had happened and going forward how to better handle the situation with some taking the jib down and others getting the new jib ready.
Equipping for the future
The act of handling, accessing and planning for the unexpected is a trait that sailing is particularly adept at honing and is why sailors do well in all areas of life. By the end of this race, these Omani women will be able to take this skill forward and use it in whatever industries or adventures they pursue.